Events
Seminar What's new in Food Law, 13 September 2023, Vienna (in German)
Seminar Successful marketing of food with legal certainty, 27/28 September 2023, Vienna (in German)
Seminar Food Supplements, 10/11 October 2023, Mainz (in German)
Seminar Vegan & vegetarian foods, 08 November 2023, online (in German)
Contact us if you are interested in in-house training programs and tailor-made seminars.
Ethylene oxide / 2-chloroethanol
For more than two years, these substances have been causing massive problems in the food chain as contaminants or residues. If you as a company are affected by this, we support you in risk assessment, whether your products are safe and marketable, in communication with authorities, suppliers and customers, as well as in crisis management.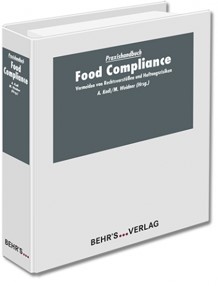 Handbook Food Compliance
The first handbook in German for practitioners which applies ISO Standard 19600 for Compliance Management Systems to the topic of Food Compliance. Detailed check lists and examples support a swift and easy introduction of a Food Compliance Management System (FCMS) in your company. Now also covering Food Fraud. Details can be found here.
Glycolipids – the new kid on the block
We are pleased to have successfully obtained approval for the new preservative glycolipids (E 246) in the EU for LANXESS. The corresponding Regulation (EU) 2022/1037 allows beverage manufacturers more flexibility and safety in the development of innovative products.
Contact us if you need support for getting a food additive, enzyme, flavour or novel food approved in the EU or the UK.
Austrian commentary for the EU Food Information Regulation 1169/2011. For details check here.
You are selling foods, beverages or food supplements in the EU over the internet? The European Food Information Regulation requires that you have to provide consumers with comprehensive product information already on your website. We will support you in the necessary changes. For details check here.